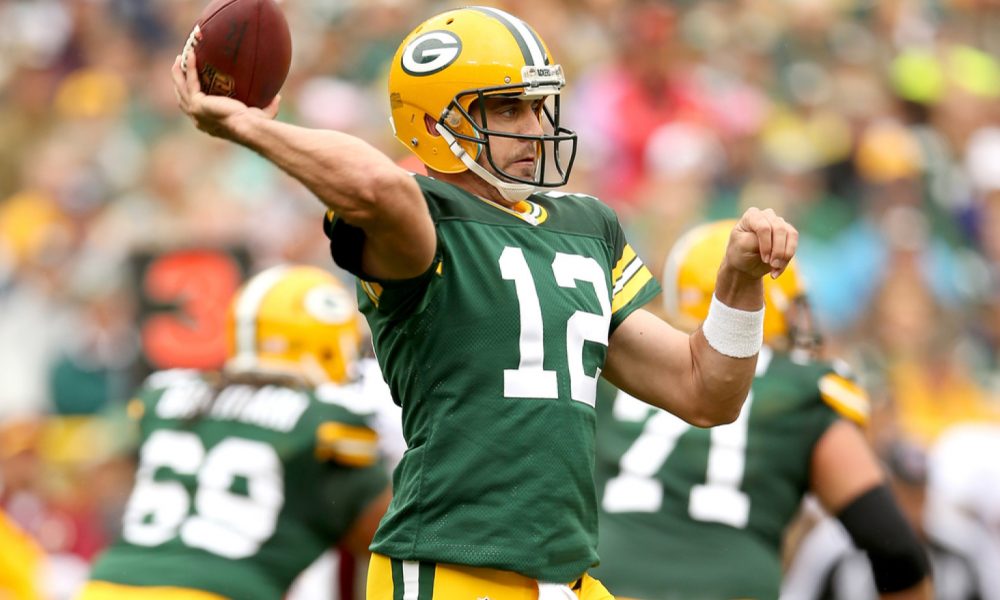 GREEN BAY, WI - SEPTEMBER 15: Aaron Rodgers #12 of the Green Bay Packers throws against the the Washington Redskins at Lambeau Field on September 15, 2013 in Green Bay, Wisconsin. (Photo by Matthew Stockman/Getty Images)
NFL Week 18 schedule: 5 teams on upset alert
Looking at the NFL Week 18 schedule, here are five teams who need to be on upset alert entering Sunday afternoon.
5. Green Bay Packers (-5) vs. Detroit Lions
This only goes on upset alert if the Los Angeles Rams beat the Seattle Seahawks earlier in the day. Now, that game isn't on the docket here for a reason, but if that happens, look out. Detroit has a real offense with weapons galore, and Jared Goff has been better than Aaron Rodgers this year. Could be an unbelievable moment for the Lions.
4. Denver Broncos (-3) vs. Los Angeles Chargers
This is all about motivation. By the time kickoff takes place in the Rocky Mountains, there's a good chance the Baltimore Ravens have lost to the Cincinnati Bengals. If that's the case, Los Angeles will be locked into the fifth seed, knowing it plays the winner of the AFC South. In that scenario, it's a de facto bye week for the Chargers. However, there's a chance the Ravens beat Cincinnati, and then this game means something. That's why it's on the list.
3. Buffalo Bills (-7) vs. New England Patriots
This has to be on the list for two reasons. One, the Patriots are playing for their season. They're coming to western New York sitting at 8-8, knowing a loss knocks them out of the postseason picture barring a complete miracle. However, a victory and New England is in as the No. 7 seed in the AFC. Two, the Bills are coming off an impossibly emotional week, worrying about the health of teammate Damar Hamlin. How will they respond to playing six days after he terrifying lost his heartbeat in Cincinnati?
2. Miami Dolphins (-3) vs. New York Jets
The Dolphins are favored because the Jets are going to start Joe Flacco at quarterback, and that's reasonable enough. However, the Dolphins lost to New York earlier this year when Zach Wilson helmed Gang Green. And this time around, Skylar Thompson is getting the start for Miami. Thompson was a seventh-round pick in last year's draft and frankly, has struggled in limited action.
1. Indianapolis Colts (-2.5) vs. Houston Texans
The Colts have been an abject tire fire since Jeff Saturday took over as head coach. Really, even before then. There's no reason to think Sam Ehlinger is going to do much at quarterback, after being benched for the duo Nick Foles and Matt Ryan. In their first matchup, the Colts and Texans played to a hideous draw. Expect a really close game, and perhaps even a Houston victory.