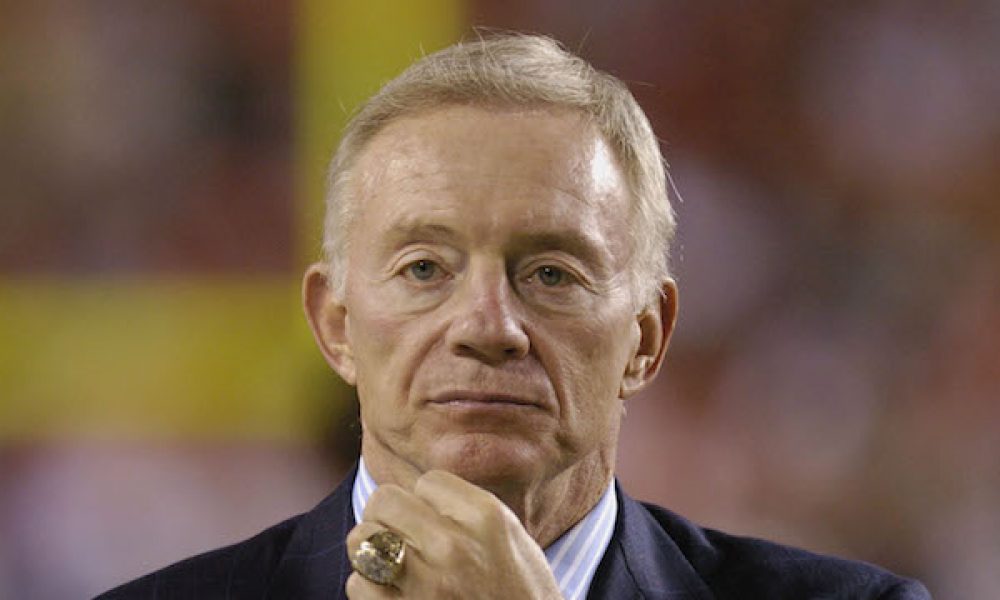 Dallas Cowboys owner Jerry Jones is on the field before play against the Washington Redskins at FedEx Field, September 27, 2004 in Landover, Maryland. The Cowboys defeated the Redskins 21 to 18. (Photo by Al Messerschmidt/Getty Images)
NFL Week 4 2022: Reactions and observations
After a wild NFL Week 4 Sunday, we look at what happened across the league and take stock of where things sit at the quarter pole.
– The Kansas City Chiefs are back on track. After losing to the Indianapolis Colts last week, the Chiefs hung 41 points on the overwhelmed Tampa Bay Buccaneers in front of a national audience. The win puts Kansas City a game up on the Los Angeles Chargers and Denver Broncos in the AFC West, along with having a two-game cushion on the Las Vegas Raiders, who they host next Monday night.
– The Carolina Panthers are a total mess. After losing at home to the Arizona Cardinals, the Panthers are 1-3 and can't score points. Baker Mayfield has been a huge disappointment sine being acquired this summer from the Cleveland Browns, and the result is a third-place team going nowhere fast. It's hard to see the Panthers making any serious run. In fact, one wonders if Carolina is going to trade off some assets for future draft picks before the trade deadline.
– The Buffalo Bills should be thrilled. They were down 20-3 against the Baltimore Ravens, on the road, in the rain, in the first half. Buffalo then outscored Baltimore by a 20-0 margin in the second half, capped off by a game-winning Tyler Bass field goal as time expired. Buffalo is 3-1, and the defense stepped up against a top opponent. The Bills are back after an off game against the Miami Dolphins in Week 3.
– Kudos to the Dallas Cowboys, who looked like they were ready to collapse after losing their season opener while Dak Prescott went down with a broken thumb. Incredibly, the Cowboys are 3-0 without Prescott, as backup quarterback Cooper Rush has stepped up and held things down. Now, with Prescott getting close to a return, the Cowboys have critical games against the Los Angeles Rams and Philadelphia Eagles. Who starts?
– The Seattle Seahawks are actually really fun. On Sunday, the Seahawks scored 48 points in a win over the Detroit Lions, while quarterback Geno Smith had a phenomenal game, throwing for 320 yards on 10.7 yards per attempt, to go with two touchdowns and zero interceptions. Smith also ran for another 49 yards and a score. Somehow, through four games, Smith is outplaying Russell Wilson. Who would have ever guessed?