49ers Linebacker Reuben Foster Arrested on Charge of Domestic Violence
By David A.
Saturday night San Francisco 49ers linebacker Reuben Foster was arrested in Tampa, Florida at the team's hotel. An arrest report said Reuben Foster was arrested on domestic violence charges.
The report from the office of the Hillsborough County Sheriff's office said Foster was booked at 11:11 p.m. At that point, he was being held without bail.
Tampa police arrested Foster just after 9:00. The incident took place at the hotel the 49ers were staying before their Sunday's game against the Tampa Bay Buccaneers.
No immediate response was made by the 49ers to requests for comments. However, general manager John Lynch and head coach Kyle Shanahan both said this past April following Foster's arrest for charges of domestic violence that were then dropped, that the 49ers organization's policy was zero-tolerance on that issue.
Want $250 to bet on the NFL?
Sign up here!
Tampa police released a statement that said Foster and a woman, who is 28, were involved on Saturday in a verbal altercation. The woman told police that Foster pushed her in the area of her chest. He also allegedly slapped her cell phone from her hand and slapped the right side of her face. Police added in the statement that a scratch the size of one-inch has been seen on the left collarbone of the woman.
The police statement added that the woman and Foster had lived together previously. Additionally, they were involved in a relationship that was on an off for the last three years.
Foster was drafted in 2017 by the 49ers as the 31st pick overall. Since then, he has had run-ins with law enforcement multiple times.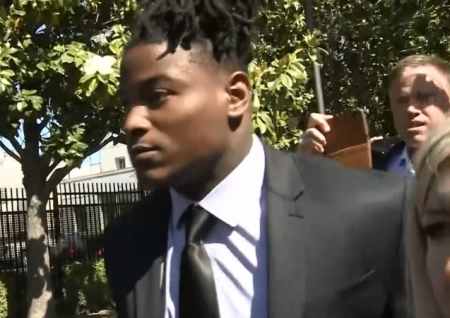 In January, Foster was charged with marijuana possession in the second degree in Alabama. The charge was later dismissed after Foster completed a diversion course for first-time offenders.
In California, Reuben Foster was charged in February with felony domestic violence, weapons possession and criminal threat charges after his former girlfriend accused him of beating her up.
A ruling by a judge said no probable caused existed for the domestic violence and criminal threat charges after the woman recanted her allegations and no further evidence was found to support them. The charge of weapons possession was lowered to a misdemeanor and a plea of no contest by Foster was made in June.
Foster received two years' probation, community service and fines totaling $235 for the charge.