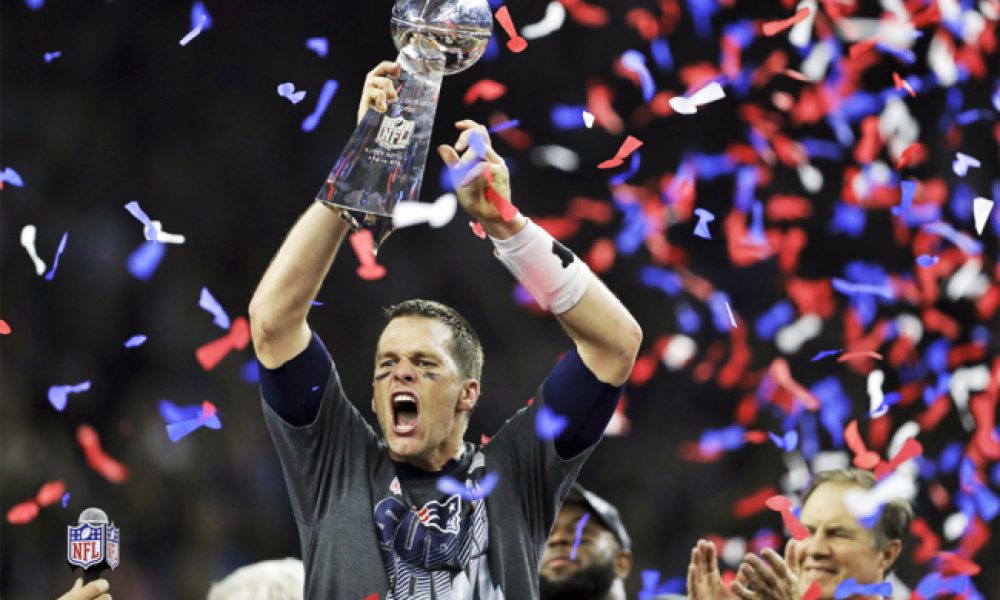 New England Patriots' Tom Brady raises the Vince Lombardi Trophy after defeating the Atlanta Falcons in overtime at the NFL Super Bowl 51 football game Sunday, Feb. 5, 2017, in Houston. The Patriots defeated the Falcons 34-28. (AP Photo/Darron Cummings)
Tom Brady being asked to retire as Patriots player
Tom Brady retired from the NFL on Wednesday morning, but New England Patriots owner Robert Kraft wants him to be active for one more day.
After spending 21 years with the New England Patriots, winning six Super Bowls and appearing in nine, Tom Brady finished up his career with the Tampa Bay Buccaneers.
That's not sitting well with fans in New England or Patriots owner Robert Kraft.
Want $250 to bet on the Super Bowl?
Kraft, who has a very close relationship with the three-time MVP and 15-time Pro Bowler, wants Brady to retire a member of the Pats, giving him a final, one-day contract. Per NFL.com:
"I'd do it tomorrow. … Not only do I want it, our fans are clamoring for it. To us, he always has been and always will be a Patriot, and we will be bringing him back.
"I don't want to make a commitment for him, but we will do everything in our power to bring him back, have him sign off as a Patriot and find ways to honor him for many years to come, because he did so much to bring life and good cheer to our community and he's a beloved figure and he's earned the respect and love that people feel for him like no other athlete in our town, and we've had some great ones."
It would be a nice touch, but ultimately, it's not going to matter. Nobody remembers that Franco Harris finished his career with the Seattle Seahawks, or that Johnny Unitas spent five miserable games with the San Diego Chargers.
Of course, Brady's time with Tampa Bay wasn't a mere footnote. He won the NFC South twice, went to the Super Bowl and won it in 2020, dismantling the Kansas City Chiefs. Brady is a legend in both cities, although it's impossible to argue he doesn't have far more memories up in Foxboro.
This upcoming season, you can be sure Brady will honored by both, but the ovation will be louder and longer in New England, where he turned a perennially after-ran franchise into the most dominant one American sports had to offer for 20 years. It'll be something we see time and again as the Super Bowl reunions click by, reminding us not only of Brady's greatness but where that greatness took place.
It would be terrific if Brady officially retires with the Patriots, but for most football fans, that'll be his legacy regardless.