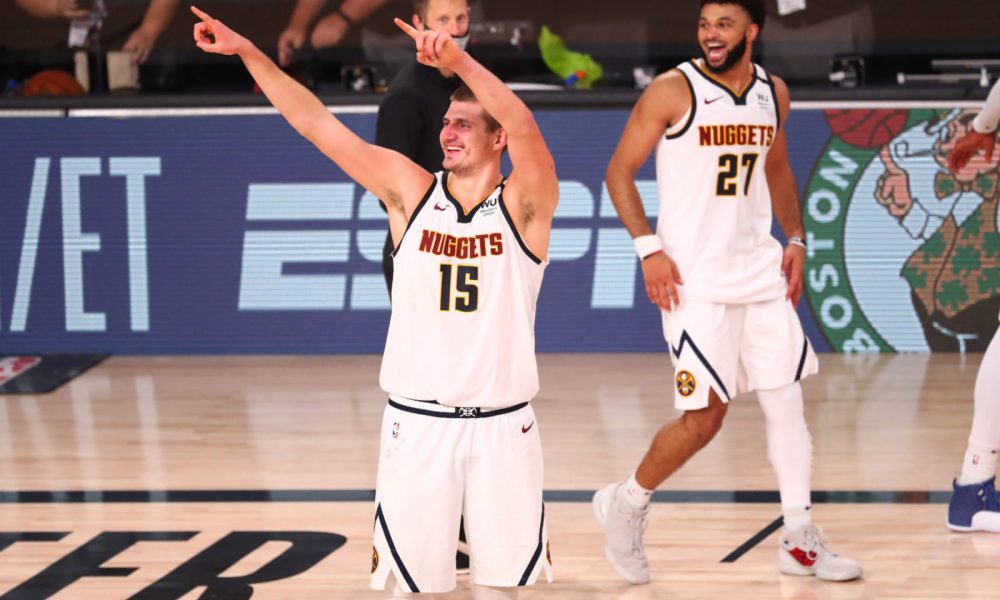 Sep 15, 2020; Lake Buena Vista, Florida, USA; Denver Nuggets center Nikola Jokic (15) celebrates after defeating the Los Angeles Clippers in game seven of the second round of the 2020 NBA Playoffs at ESPN Wide World of Sports Complex. Mandatory Credit: Kim Klement-USA TODAY Sports
Nikola Jokic Improves Standing Of International Players With MVP Win
Nikola Jokic is the 13th player to win consecutive MVP awards and the second straight international player to do so.
The Denver Nuggets big man's coronation was made official by an NBA announcement on Wednesday night.
Nikola Jokic averaged 27.1 points, 13.8 rebounds and 7.9 assists to help Denver towards 48 regular season wins.
He also became the first player to surpass 2,000 points, 1,000 rebounds and 500 assists in a single season.
Want $250 to bet on NFL futures?
"I don't know what else you can say about Nikola at this point," Nuggets coach Michael Malone said in a statement. "He's consistently improved his game, he's consistently proven people wrong when they doubt him and he's consistently the best player on the floor night in and night out."
Nikola Jokic follows in the footsteps of Giannis Antetokounmpo, who won MVP honors in 2019 and 2020. It's the first time an international player has won the award four years in a row.
Steve Nash went back-to-back in 2005 and 2006, and in 2007 Dirk Nowitzki was awarded. International players ranked 1st, 2nd, and 3rd in this year's honors. Joel Embiid finished in second with Giannis coming in third.
Only twelve other players have ever won consecutive MVP awards. Jokic joins Giannis, Steph Curry, LeBron, Nash, Tim Duncan, Michael Jordan, Magic Johnson, Moses Malone and Kareem Abdul-Jabbar. Both LeBron and Kareem have won back to back MVPs twice. Larry Bird, Wilt Chamberlain and Bill Russell are the only players to have won three straight.
"If it's not me, who is it?" Jokic responded when asked if he considered himself the longest of long shots. "There's no way that I would come to the NBA and play basketball from this city and from this stable, basically. Now, I'm playing basketball in the best league in the world and playing at a high level."