Ryan Johansen on Beating Tampa Bay Lightning Twice in a Year
By Connor Lynch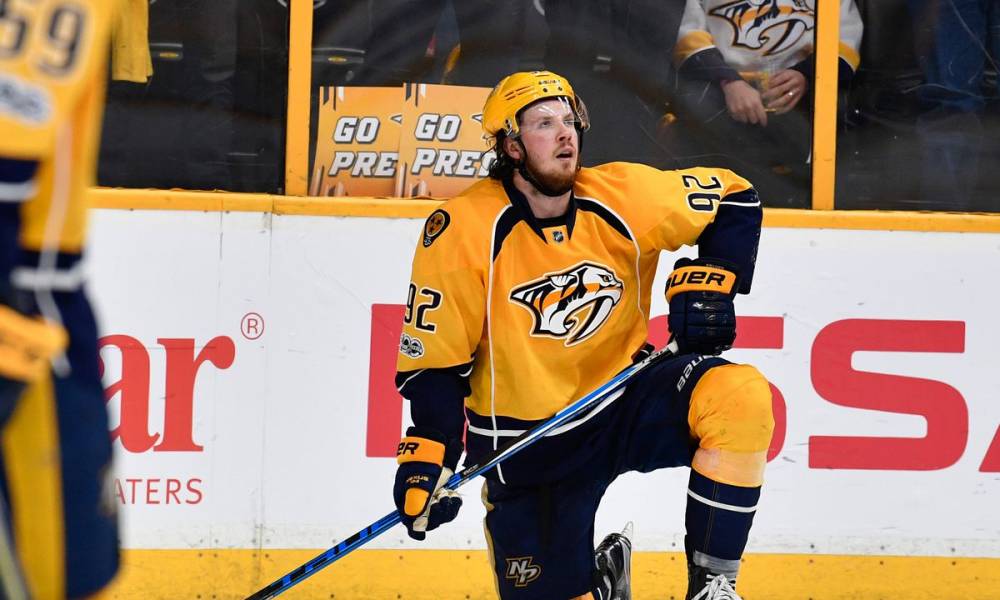 The Nashville Predators beat the Tampa Bay Lightning 3 – 2 on Monday thanks to a solid Ryan Johansen performance.
Ryan Johansen had a goal and an assist to help Nashville beat the Lightning for the second time in a year. Filip Forsberg and Kyle Turris joined Ryan Johansen on the scoresheet with one, while defenseman Mattias Ekholm had two assists.
Goalie Pekka Rinne, who has won nine and lost one against Tampa Bay, made 29 saves in the game. The result takes the Nashville Predators to 15 – 5 – 1 on the season. Meanwhile, the Tampa Bay Lightning is 14 – 6 – 1.
Want $250 to bet on the NHL?
"I think for a fan, tonight's game was awesome," Johansen said. "They got to see two of the top teams in the League right now going toe-to-toe. We did a lot of good things, they did good things and ultimately we found a way to get the win done. That's definitely a good accomplishment beating those guys twice in a year."
The match might have ended in a 3 – 3 draw were it not for a disallowed goal for the Lightning. Forward Alex Killorn scored at 18:03 of the second period but was penalized for tripping Predators defensemant Ryan Ellis.
"It was two different games," Lightning coach Jon Cooper said. "They dictated the pace in the first half, we dictated in the second half. We both scored three, one was called back. That was ultimately the difference in the game."
"We have 82 games during the year and some of them won't be as special, but as soon as there's one of those games where it's 1 versus 2 and we're playing a really good opponent, I feel like everyone is bringing their 'A game,'" Ekholm said. "We really played a good game, we really played hard."
"In the first 15 minutes of the second period, I think we were playing really, really good hockey against a really good team," Forsberg said. "We could've scored a couple more goals. They had a couple of great saves there. I think that's how we've got to play."