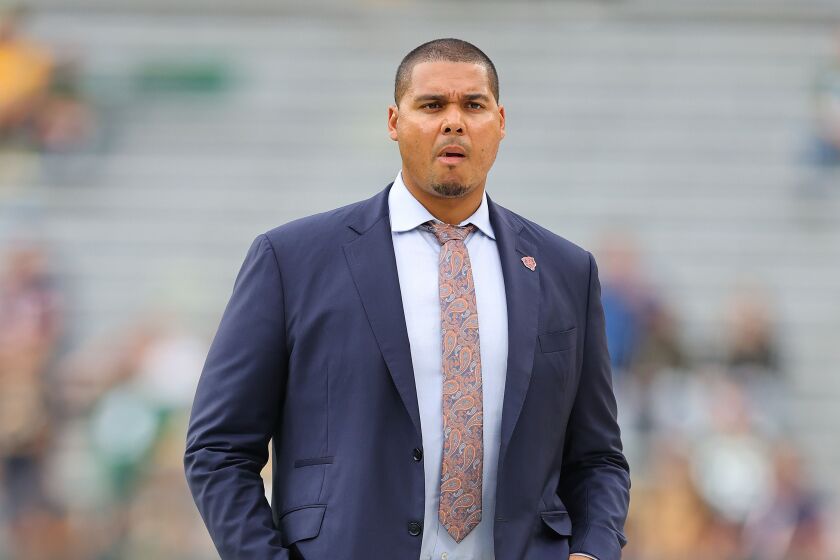 Ryan Poles: 'Sometimes You've Got To Fight Through It'
Bears GM Ryan Poles says the experience within the organization enables them to navigate their tough start to the 2023 season.
The Chicago Bears are 0 – 2. Quarterback Justin Fields has hit out at the media. Defensive coordinator Alan Williams has resigned, and the buzzword around Chicago is 'panicking'. 
Ryan Poles has faith in the Bears to 'fight through it', but isn't shying away from the fact they're already up against it. 
Following an offseason of massive hype, it's not where the Bears thought they would be two weeks into the season.
Want $250 to bet on the NFL?
"To hit it straight on, we have adversity right now. Slow start, 0-2, not where you want to be," Ryan Poles said. 
"We've dealt with life issues, we've dealt with injuries and that's all real and that's a part of what we do and what we've got to deal with. The beautiful thing about our philosophy here, our organization is we're solution-oriented. We work together to find these solutions and solve our problems to get everything back on track.
"To make it really, really clear, I know the outside noise, but no one in our building is panicking, no one is flinching at any situations. Not our owner, not our president, not our head coach, not myself, none of our players — everyone's focused on solving the issues that we have so that we can be a better football team."
"[Bears head coach Matt Eberflus] and I were talking about last night, like, we've both been through slow starts, rough starts and gotten things back on track — in our background, him with Indy in 2018, myself in Kansas City in 2015. Sometimes you have these and you've got to fight through it and figure out how you can be a better football team."