Vince Carter to Become NBA's Longest-Serving Player
By Connor Lynch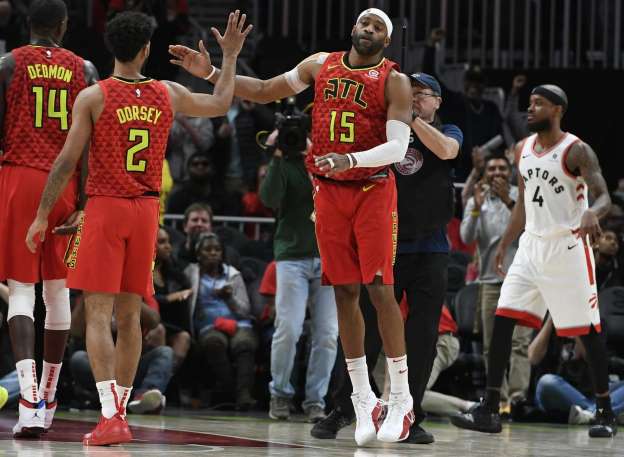 Vince Carter will next season becoming the longest serving NBA player in the history of the game. 
He will do so while wearing the jersey of the Atlanta Hawks, according to reports.
Vince Carter agreed to a one year deal to return to the Hawks for what will be his 22nd season.
Currently, Vince Carter is tied with Robert Parish, Kevin Garnett, Kevin Willis and Dirk Nowtizki on 21 seasons. Dirk Nowitzki joined the 21 season club in a record-breaking farewell season last year. The Dallas Mavericks legend then retired with the record which will now be broken by carter.
Want $250 to bet on NBA futures?
Sign up now!
Carter (42), had ambitions towards being the longest-serving NBA player in history since before the new Atlanta deal.
Speaking earlier in the summer, he said he was "Just waiting for the right opportunity."
"Nothing has changed as far as that goal and that dream of mine." 
During his first season with the Atlanta Hawks, Carter played the role of mentor to the team's younger players.
The senior pro took the likes of Trae Young and John Collins under his wing. This year, he will have rookies De'Andre Hunter and Cam Reddish under his supervision as well. 
Despite the elder role his been typecast as, Carter doesn't remain in the NBA merely to make up the numbers.
Last season, he played in 76 games, starting nine times. He averaged 17.5 minutes and 7.4 points per game. 
Carter admits that it's hard to let go of basketball, while he still retains his enthusiasm for the game.
"This is like I'm in my third, fourth, fifth year," he said. 
"I'm excited about the opportunity. I'm excited about playing. I still love playing, I still love competing. I still enjoy the traveling, the ups and downs of the league. That's what it's all about. It's hard to let go."