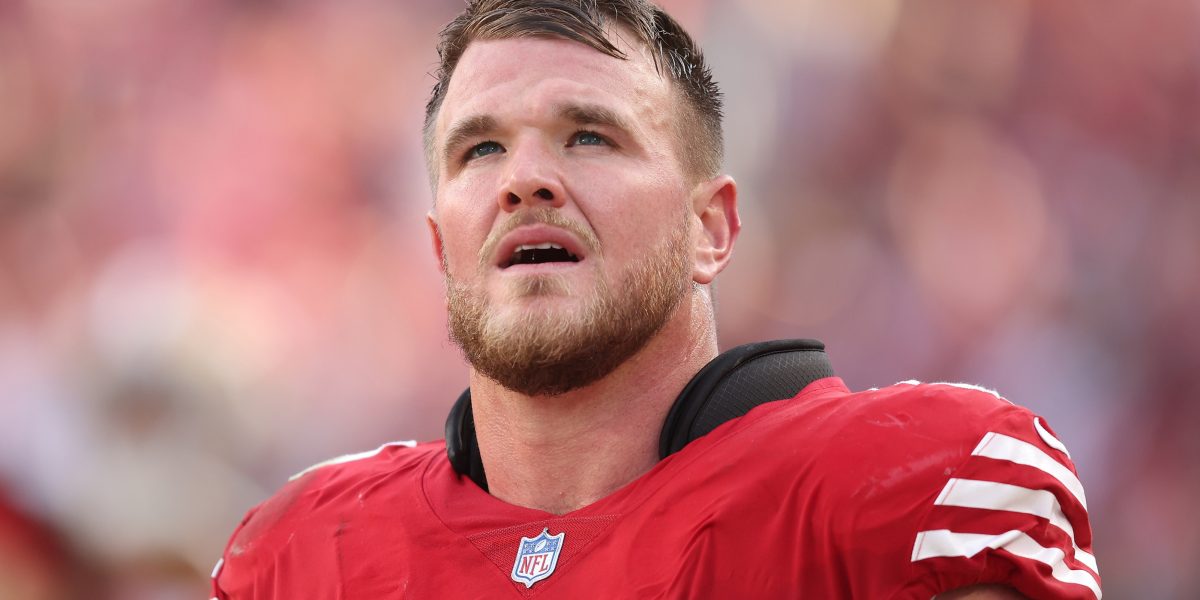 SANTA CLARA, CALIFORNIA - DECEMBER 24: Mike McGlinchey #69 of the San Francisco 49ers looks on from the sideline in the fourth quarter against the Washington Commanders at Levi's Stadium on December 24, 2022 in Santa Clara, California. (Photo by Lachlan Cunningham/Getty Images)
Mike McGlinchey Excited To 'Turn Things Around' In Denver
New Denver Broncos right tackle Mike McGlinchey is delighted with his move to a new team in free agency. 
He would be, considering he signed a five-year, $87 million contract with a guaranteed $50 million. It's a show of intent from a Broncos organization that hasn't won a playoff game in seven years.
With Sean Payton at the helm, there's an opportunity for Mike McGlinchey to establish himself in an up-and-coming team.
Want $250 to bet on NFL futures?
"I've spoken with (general manager) George Paton quite a bit and I really love the direction he's headed, love the roster that's been built here," Mike McGlinchey said. 
"I think we're ready to compete now. It's not some big rebuild or anything like that that needs to take place.
"I think defensively, they're going to be a top unit in football. I think we have the potential to be a top unit on the offensive side of the ball as well. And obviously can't forget Sean Payton, who is a Hall of Fame head coach. In all my talks with him, he and I seem to align very well in our philosophy in the game of football. On top of being a great leader and a great person."
"I feel like I fit with what Denver wants to do. It's a fun opportunity to be part of a group that turns things around for a historic and storied franchise. And Denver is obviously an unbelievable place to live.
"So all those factors and, quite frankly, they had an offer I couldn't refuse. It was an incredible situation all the way around. It was the one place I wanted to be and I'm just glad it all worked out."