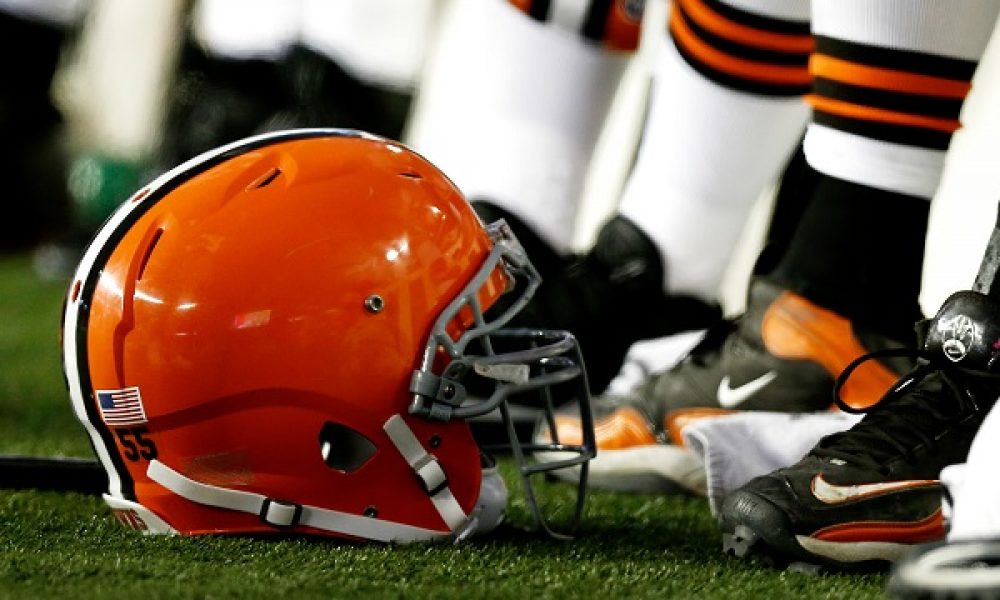 Dec 8, 2013; Foxborough, MA, USA; A Cleveland Browns helmet sits on the sidelines during the fourth quarter of New England's 27-26 win at Gillette Stadium. Mandatory Credit: Winslow Townson-USA TODAY Sports
NFL Week 12 2022: A case for each underdog
Looking at the NFL Week 12 lines, here's how each underdog can cover the numbers in their games, along with some winning outright.
Buffalo Bills (-9.5) at Detroit Lions
The Lions can score, and the Bills' defense is both beat-up and not playing well. This is about getting somewhere around 24-27 points.
New York Giants at Dallas Cowboys (-9.5)
Too big of a line. New York will cover if it runs the ball effectively and doesn't create long down-and-distances for Daniel Jones against Dallas' front.
New England Patriots at Minnesota Vikings (-2.5)
Bill Belichick against Kirk Cousins. In primetime.
Tampa Bay Buccaneers (-3) at Cleveland Browns
The Bucs have struggled to score points all season. If Jacoby Brissett can make a few plays and Nick Chubb runs effectively, Cleveland has a chance at the upset.
Cincinnati Bengals (-1.5) at Tennessee Titans
Tennessee remains underrated. The Titans are coming off a mini-bye and have the better record. The Titans are also at home.
Want $250 to bet on NFL Week 12?
Houston Texans at Miami Dolphins (-13)
This is about trying to cover. Houston has to run with Dameon Pierce, create a turnover or two and shorten the game. Otherwise, blowout city.
Chicago Bears at New York Jets (-4.5)
This largely depends on Justin Fields. If he doesn't play, stay far away.
Atlanta Falcons at Washington Commanders (-4)
The Falcons aren't good, but they've stayed in almost every game this year. This is about Atlanta's defense limiting Terry McLaurin downfield.
Denver Broncos (-2.5) at Carolina Panthers
Just take the points. Both these teams should be brought up on charges.
Baltimore Ravens (-4) at Jacksonville Jaguars
The Jaguars are coming off a bye, and the Ravens have struggled many weeks to finish off games. Jacksonville can absolutely cover, even if it's back-door.
Los Angeles Chargers (-4.5) at Arizona Cardinals
The Cardinals are 4-7 and in a must-win situation at home. Los Angeles is more talented, but also incredibly mercurial.
Las Vegas Raiders at Seattle Seahawks (-3.5)
Can Derek Carr make enough plays with his arm to hide the Raiders' defense? He'll need to against a Seattle defense which is improving by the week.
Los Angeles Rams at Kansas City Chiefs (-14.5)
Another game about covering the number. Los Angeles would need a miracle to win, but can it score 20 points against an average Kansas City defense?
New Orleans Saints at San Francisco 49ers (-9.5)
The Saints have talent, and they have the defenders to harass Jimmy Garoppolo. That's the formula for creating mistakes and staying in the contest.
Green Bay Packers at Philadelphia Eagles (-7)
Aaron Rodgers needs to be a part of the offense, not its epicenter. Aaron Jones has to gash Philadelphia, keeping the Eagles' potent attack off the field.
Pittsburgh Steelers at Indianapolis Colts (-2.5)
Kenny Pickett needs to make a few splash plays but more importantly, avoid the big errors.