Panthers trade for Sam Darnold is smart gamble
By Matt Verderame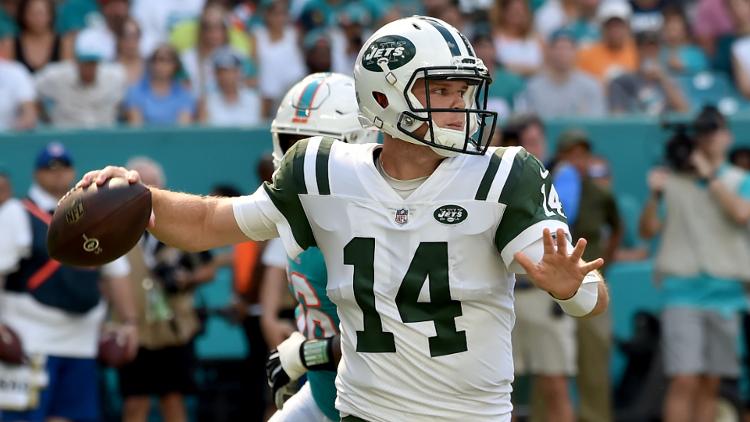 On Monday, the Carolina Panthers sent three draft picks to the New York Jets for quarterback Sam Darnold. It was a wise move.
Sam Darnold could end up being horrific for the Carolina Panthers. He could also turn out to be a steal.
Carolina took a gamble on the former No. 3 overall pick, trading a 2021 sixth-round choice along with second and fourth-round selections in 2022. The New York Jets figure Darold has stunk for the better part of three years. Considering they're likely to take a quarterback with the second-overall pick come April 29, why keep Darnold around?
Want $250 to bet on NFL futures?
For the Panthers, why not? Darnold is only 23 years old, having come into the league as a fresh-faced 20-year-old from USC. In three seasons with New York, Darnold has thrown 45 touchdowns against 39 interceptions, and never posted a winning record, 20 touchdown passes or 3,100 yards in a campaign.
However, Carolina general manager Scott Fitterer believes with a new system and a few offensive-minded coaches, Darnold can flourish with the Panthers, per NFL.com:
"I just think in this offense with [offensive coordinator] Joe Brady, with [head coach] Matt Rhule, the weapons that we have around him, that he can take that next step with us. Just kinda looking overall where we were at with the draft, the position we're in, I was really exited to add somebody of Sam's caliber to our team."
For the Panthers, it's a smart move. They can trade down a few times in the next few drafts to recoup most of their lost draft capital and now have a quarterback who they control for two years on his rookie deal and then, if the situation calls for it, a few more on the franchise tag.
In a division with Tom Brady and the Tampa Bay Buccaneers, the Panthers aren't competing to win anything right now. Carolina has time to see how Darnold does with a real supporting cast including All-Pro running back Christian McCaffrey and receivers D.J. Moore and Robby Anderson. If it doesn't work, the Panthers can cut bait and start looking for a replacement either in 2022 or '23.
For the Jets, they get three draft picks to speed up their rebuild. For Darnold it's a fresh start for a player who desperately needed one.
As for the Panthers, it's a cheap lottery ticket who change the franchise if Carolina's big bet ends up going boom.