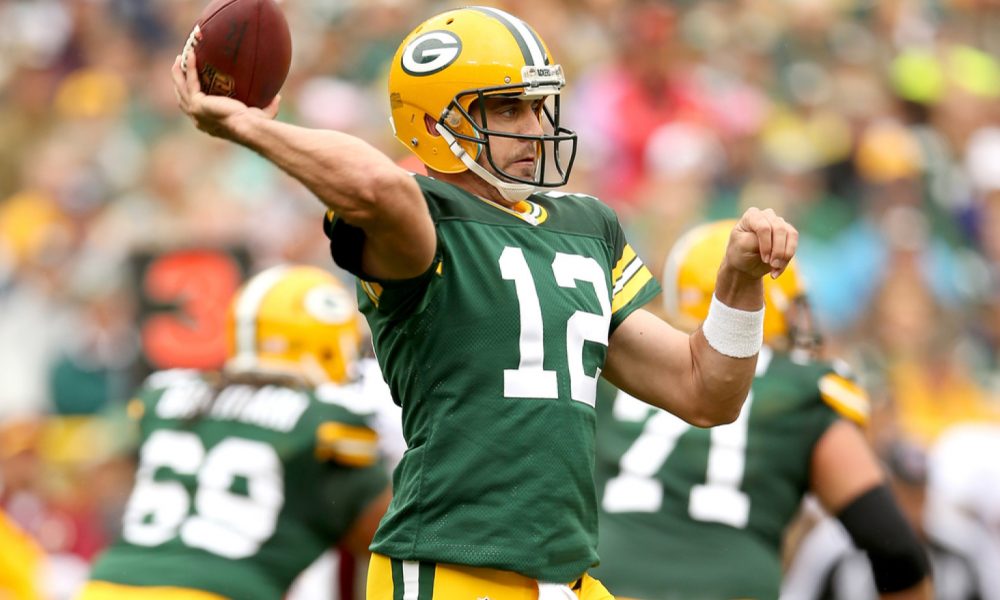 GREEN BAY, WI - SEPTEMBER 15: Aaron Rodgers #12 of the Green Bay Packers throws against the the Washington Redskins at Lambeau Field on September 15, 2013 in Green Bay, Wisconsin. (Photo by Matthew Stockman/Getty Images)
NFL power rankings, Week 1: Who's tops in NFC?
In this edition of our NFL power rankings, we' relooking at the NFC and trying to discern who's the best of the best.
16. Atlanta Falcons
Fun challenge. Offer $20 to anybody who can name more than six players on the Falcons.
15. Seattle Seahawks
The Seahawks don't have a quarterback and the defense is being rebuilt with Bobby Wagner now in Los Angeles.
14. Chicago Bears
Justin Fields has talent, but the rest of the offense largely does not. Long year ahead in Chicago.
13. New York Giants
The Giants are spending most of this year digging out from all the mistakes of former general manager Dave Gettleman.
12. Carolina Panthers
Baker Mayfield is better than Sam Darnold, but how much does it matter? Also, what of Christian McCaffrey?
Want $250 to bet on NFL Week 1?
11. Detroit Lions
The Lions are getting better, but they still need to upgrade at quarterback. Do that, and hit on this draft class, and Detroit is onto something.
10. Washington Commanders
The epitome of a team stuck in neutral. Get a quarterback next offseason at all costs.
9. Arizona Cardinals
Arizona had a lousy offseason, including extending and simultaneously insulting its quarterback. Tough to see the Cards moving up the NFL power rankings.
8. Minnesota Vikings
The Vikings need new head coach Kevin O'Connell to unlock their offense and hope the defense can become an average unit.
7. New Orleans Saints
New Orleans has a really, really good roster. The big key is how Jameis Winston plays and Dennis Allen adjusts to his new role as head coach.
6. Philadelphia Eagles
The Eagles had the best offseason in the NFL over the winter and spring, but is third-year quarterback Jalen Hurts ready to take the next step?
5. Dallas Cowboys
Dallas led the league in penalties last year. Can the Cowboys stop beating themselves? They'll need to after ra n offseason of departures.
4. San Francisco 49ers
It's all about Trey Lance. The coach and roster are in place, but the quarterback needs to become an asset in San Francisco, not a liability.
3. Los Angeles Rams
The Rams lost some key pieces this offseason, but they are still a top contender and a threat to repeat if things break right.
2. Tampa Bay Buccaneers
Worried about the injuries and Tom Brady's offseason, but the Buccaneers are still really talented.
1. Green Bay Packers
Davante Adams is gone, but the defense might be elite, and Aaron Rodgers is the two-time reigning MVP for a reason.